Come se già non avessimo tanti titoli da leggere un occhio agli ebook gratis su amazon ci scappa sempre, ecco cosa abbiamo scovato oggi di interessante:
FANTASY
> Arienne – estratto di "The Winds of Winter" (George R.R.Martin)
Per gli appassionati di Martin che hanno finito di leggere tutti i libri già pubblicati e non vedono l'ora che quel sant'uomo finisca di scrivere il prossimo libro Mondandori ha reso disponiile la traduzione di un estratto da "The Winds of Winter" con protagonista Arianne, figlia del principe Dorian Martell.
> Albion – Il principe spezzato _Albion 2.5 (Bianca Marconero)
Uscito questo mese narra l'antefatto della saga Albion 😉 da infilarsi dopo il libro "Ombre".
ROMANCE CONTEMPORANEI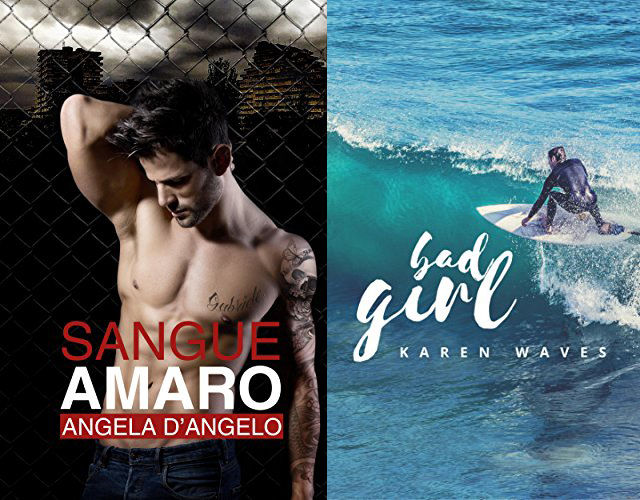 > Sangue amaro (Angela D'Angelo)
Una storia di fiducia, di amore, di speranza a Scampia. Se leggendo la trama vi ispira fate un pensiero all'acquisto del cartaceo: i proventi della vendita saranno devoluti alla Onlus SalvaBimbi, operante sul territorio.
> Bad Girl (Karen Waves)
POV di Won-ho del libro "Le cesoie di Busan", più info QUI
ROMANCE STORICI
> Alexandra (Lauren Royal)
Primo libro della saga regency dei Chase
> Scelte d'amore (Maria Masella)
Racconto collegato al romanzo "Le vie del destino" che uscirà a settembre per i Romanzi Classic Mondadori.
Cosa prenderete? 😀
Angela D'Angelo
Bianca Marconero
ebook gratis
George R.R.Martin
Karen Waves
Lauren Royal
Maria Masella